Welcome to At Ease Computing!
We are the premier provider of customized media for the computing industry. AEC specializes in CD and DVD labeling, duplication and packaging for all businesses.
Our copyrighted silk screened CD, DVD and USB media are used by numerous Federal, State and Local Governments. This ensures they have complete control over every disc or usb drive that contains their critical information.
Our staff is always available to help with your media needs!
What our customers are saying:

"I would like to take this opportunity to say 'Thanks' for a great product. It seems so simple but in the 4 or 5 years we have been ordering these CD/DVDs we have cut the number of mistakes of people putting classified disks into an unclassified system to almost zero!"

- Lockheed Martin
Our Copyrighted storage media is specially designed for U.S. government agencies and contractors to control their sensitive electronic information.
Our clasified disks are available in CD-R, DVD+/-R and BluRay formats. They are silk screened with the government color coded security classification.

Our classified USB drives are available for your higher capacity storage needs in 8 & 32 gigabyte formats. They are color coded in green (Classified & Sensitive) or red (Secret).

All USB drives are in stock and available for immediate shipment.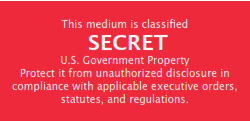 We have high quality vinyl Security (SF) Labels to mark classified U.S. Government material and equipment.
We also have smaller government (non-SF) security labels used to identify your proprietary material. We can design to your specifications.
The majority of our products are made or finished in the United States.